Merry Christmas!
A happy holiday to everyone who celebrates today. And even to those who don't, may their days have been merry and bright anyway.
Here are a couple of pictures of the 2007 Rockefeller Center Christmas tree. The second turned out pretty well, except for Christmas Eve's late afternoon sunlight impacting on the star. The first was the best of several shots, all taken on the night of December 21st, my only chance this year to take nighttime shots of the tree. In previous years, I had time to go through my camera's range of ISO settings for an optimum shot. This year I could only rely on automatic detection, and afterward some manual touch-up of colors and gamma. I like to use
GIMP
for very fine rotation (fractions of a degree as necessary) and
Irfanview
for resizing. GIMP is by far more powerful, but I find Irfanview faster for quick jobs like cropping.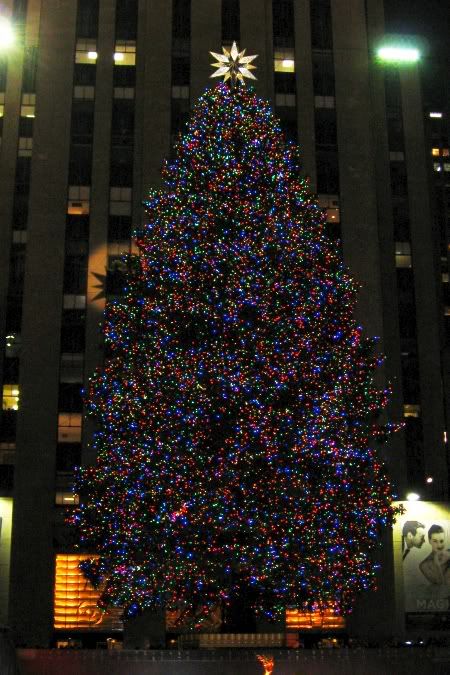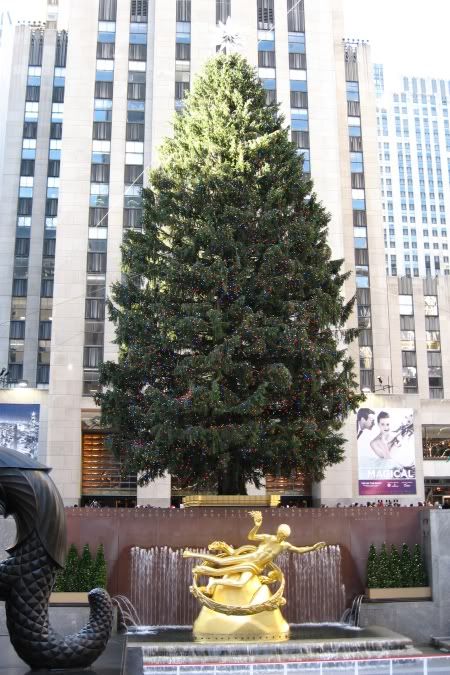 You can find my previous pictures
here
,
here
,
here
and
here
. The nighttime shot in the second link is my favorite: the image is sharp, and since it was 11 p.m. at night, I could take my time to get a good angle. The first picture in the third link is my favorite as a scene, admittedly an imperfect shot, but the people skating and the snowflake projected onto the GE Building give it a wonderful Christmas flavor.
Though I didn't get a memorable picture this year, it's not the fault of my new camera. My old Kodak broke after a couple of years, and I replaced it with a Canon 570IS. I've been extremely happy with it, and Amazon has a great price. Hint: if you buy it via the link, I get a small referral fee. Think of it as worthwhile if you do decide to buy it, since I would have helped reduce your search cost, namely time spent in examining cameras and deciding.
I needed a new camera fairly quickly in time for Christmas pictures: something relatively inexpensive in case it's lost or stolen, that takes SD cards, and that uses AA batteries. Cameras with built-in rechargeable batteries are usually thinner, but when I'm overseas, I may not always be able to recharge. Also, though lithium-ion batteries are good for many more shots than alkalines, I've been known to take several
hundred
photos in a single afternoon. My previous camera took AAs, and I habitually kept a sizable stash of fresh batteries on me.
The Powershot 570IS, 7.1 megapixels (up to 3072x2304 pixels) with image stabilization, is rated very well in reviews, so I decided to chance it. Most cameras in this class have only a 3x optical zoom. The 570IS has a 4x optical zoom, very nice for getting a little bit closer. I've been extremely impressed with the picture quality. which has three ranges: normal, fine and superfine. The difference is that with a 2-gig SD card, it can store 2047 pictures, 1006, or 632, respectively. Most people would do great with "fine," which is the factory default. The latter isn't significantly better, but I use it anyway; I never know when I want to use the full resolution of a picture and need it to be as clear as possible.
There are a host of features that most people will never use, but it's a very versatile camera. Up to ISO 1600 (although "noise" will creep into pictures above ISO 400), and several different scene settings. They're all intuitive enough that I don't expect to crack open the user's manual, ever. So far I've been able to figure everything out. The menus are fairly clean in layout.