Stupid news of the day
And you didn't even have to read the New York Times.
Luxury car market surges despite sputtering US economy

DETROIT, United States (AFP) - The luxury car market in the United States is gunning higher even with high fuel prices, the economy sputtering and much of the auto industry spinning its wheels.
A quick check of
GDP
and
unemployment
figures at the
Bureau of Economic Analysis
and
Bureau of Labor Statistics
can demonstrate that the American economy is hardly stalling, as these doomsayers would have you believe. While third quarter GDP came in at 2%, unemployment remained at 4.5%. I recall some reporters recently admitting this as "historically low," but that's about it. Now were a Democrat in the White House, national news every night would tout unemployment as evidence of a boom, or overall American happiness, "despite misleading GDP statistics that can't tell the whole story."
The Big Three automakers may be in trouble, but they are not the American auto industry. Toyota is on its way to becoming the number one auto manufacturer in the U.S., with many of the cars produced right here -- by American workers making good money at good jobs in superior factories, overseen by superior management. And the middle-class auto workers' livelihoood depends on the rich having money to spend. When government hikes taxes on the rich, as the Democrats aim to do now that they've regained control of Congress, the rich have that much less to spend, and auto workers
might
have the tax money redistributed as handouts, but only after the bureaucracy takes its cut. This is assuming that the rich will have as much incentive to earn the same as they did before.
Another stupid headline was something I saw during lunchtime. Tonight I linked to the version on BusinessWeek's site, in case the original article on Yahoo News gets "updated" or disappears:
Stocks tumble in early afternoon trading

Wall Street fell in an erratic session Tuesday as investors weighed the impact of lower oil prices and remained wary about corporate earnings after Sprint Nextel Corp. issued a profit warning.

Investors lost some of their recent ebullience going into the earnings season, worried that 18 straight quarters of double-digit growth in Standard & Poor's 500 companies might be ending. The market was skittish after Sprint Nextel warned 2007 results will miss analyst projections and another half-dozen companies warned Monday that fourth-quarter results will come up short....

In early afternoon trading, the Dow fell 43.26, or 0.35 percent, to 12,380.23.

Broader stock indicators also declined. The S&P 500 index fell 5.72, or 0.40 percent, at 1,407.12, and the Nasdaq composite index shed 10.86, or 0.45 percent, to 2,427.34.

While there was plenty of action in the stock markets, fixed-income trading remained range bound with little economic news for traders to act on. Bonds edged lower, with the yield on the benchmark 10-year Treasury up to 4.67 percent from 4.65 percent on Monday.
The Dow closed at 12,416.60, down 6.89 (0.06%). The S&P 500 closed at 1412.11, down 0.73 (0.05%). The NASDAQ closed at 2443.83, up 5.63 (0.23%). They did recover from their noontime lows, which weren't that drastic, considering wide swings during the day are not uncommon.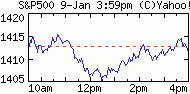 And the updated article by the same reporter?
"Dow Drops Nearly 7 As Oil Prices Decline"
-- as if those few points were even worth mentioning as a "drop." How about "flat"? How about "regains the day's losses," or is that just too optimistic for these spreaders of doom and gloom?
So say after me:
big fucking deal
. I strive for optimism, though I don't let it cloud my perception of reality. If and when things are bad, I acknowledge that. Still, it pisses me off to see reporters constantly looking for the bad angle.
Another story I saw, or perhaps a different version of this one, blamed falling oil prices for stock prices' overall decline. Really now. For the last three years, you couldn't avoid financial punditry about oil prices depressing the economy and stock markets. Which is it?
There are some companies that produce energy resources and are components of the major stock indices, but so are other companies that buy energy resources, particularly retailers. When fuel costs go down, retailers and consumers benefit. The wonderful thing about the free market is that, left to their own, buyers and sellers can maximize profits, rather than depending on central planners to control fuel prices. In a free market, Bob at ExxonMobil and Jane at Wal-Mart will have their jobs based on competition, rather that at the whim of a central planner who hikes oil prices to create work for more Bobs, or reduces oil prices to create work for more Janes.