And just what kind of a man was he?
I wasn't surprised at all when I read this article yesterday; in fact, I expected the critical omission. Emphasis added to the excerpts:
Man Pleads Not Guilty in Seattle Case

SEATTLE Aug 15, 2006 (AP)— A man accused of storming Seattle's Jewish Federation offices, killing one woman and wounding five others in a fit of rage over U.S. foreign policy, pleaded not guilty Tuesday to murder and other charges.

Naveed Afzal Haq, 30, had indicated in court last week that he wanted to plead guilty, but a judge continued his arraignment to give his lawyers time to determine whether their client was competent.

On Tuesday, defense attorneys said they had met with Haq for nine hours during the past week and found no indication that he would be incapable of assisting in his own defense.

Haq faces either life in prison or execution if convicted in the death of Pamela Waechter, 58, director of the Jewish charity's annual fundraising campaign. King County Prosecutor Norm Maleng has not yet announced whether he will seek the death penalty.

Haq pleaded not guilty to five counts of attempted first-degree murder in the July 28 shooting at the federation's downtown offices.

Five women were wounded by gunfire, including one who was 17 weeks pregnant and three who required lifesaving surgery.

Haq fired at the pregnant woman's abdomen, but the bullet hit her raised arm, Seattle Police Detective Dana Duffy said in a probable cause statement filed with charging documents. The woman crawled back to her desk and called 911, defying the gunman's warning that no one call authorities.

Haq eventually got on the phone with the 911 operator and said he was upset about the war in Iraq and U.S. support of Israel, and asked the operator to patch him through to CNN, Duffy said...
Whether it's al-Reuters or the Associated Press, this farce of news reporting goes beyond political correctness. What's the missing word?
Muslim
. What's the missing detail? As the
Seattle Times
reported, he said
"I'm a Muslim American; I'm angry at Israel"
before he started shooting. So much for the reports of his conversion to Christianity. He also said to a 911 operator (keep in mind that this was therefore
recorded
and can be debunked if not true),
"These are Jews and I'm tired of getting pushed around and our people getting pushed around by the situation in the Middle East."
And just who are
his
people?
However, a headline like "Muslim Arraigned for Slaying Jewish Woman" would actually tell us the truth about who the enemy really is. Via
Professor Bainbridge
, Professor Anthony Arend of Georgetown had
a few thoughts
on President Bush's increasingly frequent use of "Islamic fascism." And just what is wrong with that term, when that enemy makes no attempt to disguise its true nature,
as I pointed out a few nights ago
?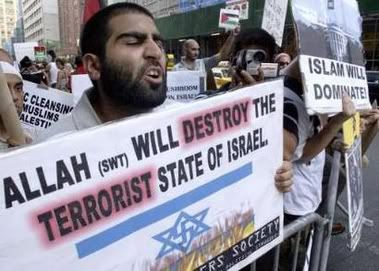 I'm not trying to speak for anyone here, but I suspect that more than a few Jews (especially in Seattle) now see, if they didn't before, that their real enemy isn't a certain guy who was born in upstate New York, raised in Australia for a time, and became a movie star and director. Their real enemy has men who tend to have first names like Abdul, Ahmed and Mahmoud, last names like Aziz, Hassan, Hussein, and who pray five times a day to some bloodthirsty deity that promises them virgins in Paradise for killing infidels.
Once I heard about the shooting, I thought, as did a lot of others, "Jews have far bigger problems to worry about than Mel Gibson." Gibson's story broke that morning, and the Seattle shooting occurred later in the day, I recall. For all I know, Gibson might actually be the biggest anti-Semite in the world,
but he's not even burning Israel's flag, let alone shooting Jews or blowing himself up
. Which is more inciteful: a movie that is allegedly anti-Semitic but in fact emphasizes the suffering of a religion's savior
for the sake of all people's sins
, or all the mosques in the U.S. and UK that recruit followers specifically for jihad? It's also more sobering once we remember, as
Jeff Jacoby
pointed out in his typically outstanding column on August 6th, that this is hardly the first time that a Muslim has gone on a shooting rampage.
It looks quite clear-cut that Haq committed premeditated murder, but note another thing I highlighted: he aimed at a woman's
abdomen
. If he couldn't kill her, he at least wanted to kill her baby. How more demented can someone be? The man should be drawn and quartered, but let's not put it past a jury that they'll believe that this
Muslim
murderer is merely insane. All the defense attorneys would need to do is object to anything that specifies the man's religion -- that is, his
true
religion. They'd love to bring up testimony from people at the Bible study he attended (which I personally dismiss as a smokescreen).