It's an annual thing: Good Friday crucifixions in the Philippines
Yahoo! has
video
(warning: graphic) of Filipinos who voluntarily have themselves nailed to the cross. It's happened every Good Friday for God knows how long. The superficially informed news report initially says that people do it to "reenact the final hours of Jesus Christ," but it properly expands it later on to include those who are repenting of sins, seeking cures for sick relatives, and to fulfill vows.
I've known about it for a long time. It's done in Pampanga, my mother's home province. She's seen them dragging their crosses down the road, and even crucified. I personally wouldn't have the stomach to go anywhere near eyesight.
The soundbite that stuck in my craw came from a Canadian tourist: "Obviously people care very deeply about it, and they're very committed to doing something like this, so, it's fantastic to watch people so committed to, to, uh, to their religion and to their faith."
Yes, well,
Michelle Malkin
wrote today about a different religion's adherents who are very committed to their religion. And let's also not forget what others did, prompted by their strong devotion to their religion: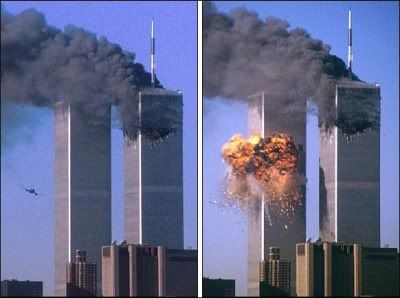 So yeah, let's celebrate every instance of how "fantastic" it is when someone's so "committed" to his faith. Good idea.