A painting, part II
This evening, I seized an opportunity to make a quick purchase at a Circuit City. Armed with a new tripod for my camera, here is a better photo of my
Buenaventura painting
. The tripod allowed me to use long-term exposure and thus forego the flash (which was unfortunately highlighting the black paint, as you can see in the previous photos). After playing around with various exposure times, I found that 2.0 seconds worked best. Insofar as capturing the proper colors, auto color worked better than tungsten compensation (at least from how I've calibrated my monitor's colors, and I'm pretty careful with that).
Update: on further reflection, this seemed a little too light. The photo turned out a little too dark with a 1.5-second exposure (actually 1.4 seconds according to the EXIF info). However, the 2.0-second photo seems "just right" after being reduced to 80% gamma.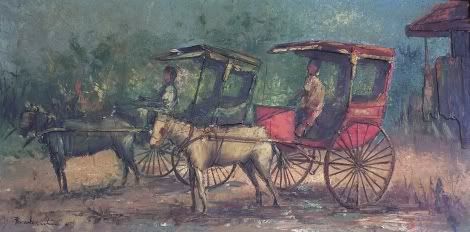 For a larger image (1200x590) where the wood pieces are more visible, click
here
.